SEDOX PERFORMANCE
What is Vehicle Catalogue API?
It allows you to integrate our vehicle remap data into your website so you don't have to maintain it. It includes vehicle brands, models and engines data for bikes, cars, trucks, agriculture and marine vehicles, together with detailed Stage1, Stage2 or deactivation information, an overview of engine and ECU characteristics and compatible flashing tools.
Integration of the catalogue into your website or app is possible via customisable HTML iframe or directly via the API if you want to completely create the catalogue interface. Offer your customers detailed, up to date information and visual presentations on your website, and watch your business grow!

API or Application Programming Interface is an interface between your website or application and our vehicle catalogue database.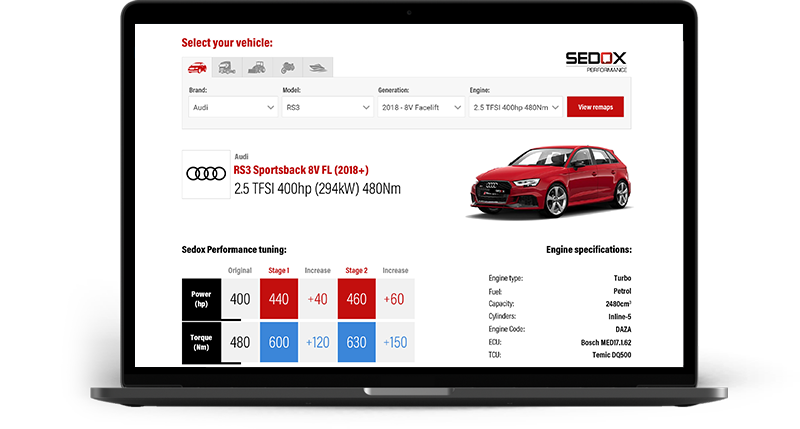 VEHICLE CATALOGUE API
What do I get?
You will gain unlimited access to:
Manufacturers logos
Models and generations listings
Vehicle photos per generations
Engine data
Remap data
Customisable iFrame
API integration instructions
WordPress plugin
Daily updates
Support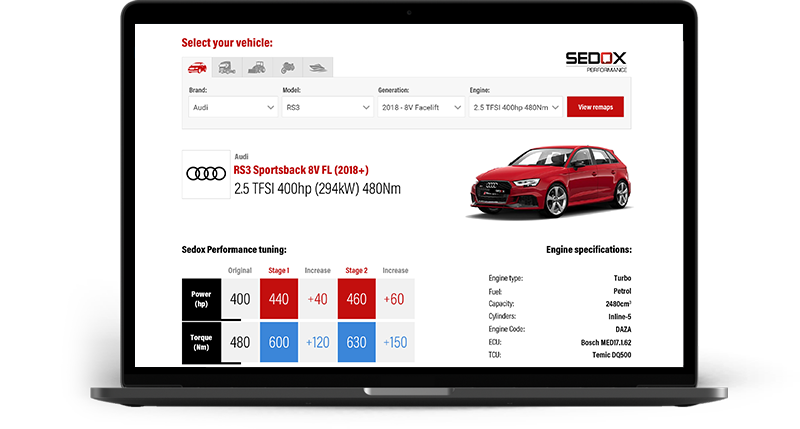 The annual price for Vehicle Catalogue API access is 1.000€. There is no initial setup fee.
Purchase and activation of the Vehicle Catalogue API access are available under your account on tuningfiles.com.
After purchasing API access, you will automatically receive an access key which you can start to use immediately.
It is not required to have an API integration if you just want to purchase files from us!!!